How it Works:
We'll pick up your vehicle when it's time for service
Lincoln Loaner vehicles are available for while your vehicle is being serviced
We'll deliver your Lincoln back to you washed, serviced and ready for your next journey
Contact Us About Pickup & Delivery
Lincoln Valet Pickup and Delivery Service in Middleburg Heights
Proper maintenance of your vehicle is crucial to keep your car running its best. One of the many conveniences of servicing your vehicle at Ken Ganley Lincoln Middleburg Heights is that we offer pickup & delivery options for auto service appointments. If you'd rather stay at home while your vehicle gets serviced, or can't fit a trip to our service center into your busy schedule, our pickup & delivery service option is perfect for you. We offer Lincoln valet pickup and delivery service so that it can be done while you're home watching TV or mowing your lawn. That's right, people around Cleveland and Medina, OH can get expert Lincoln service without even leaving their easy chair! We'll come get your car, service it in our service bays, and return it to you clean and sanitized.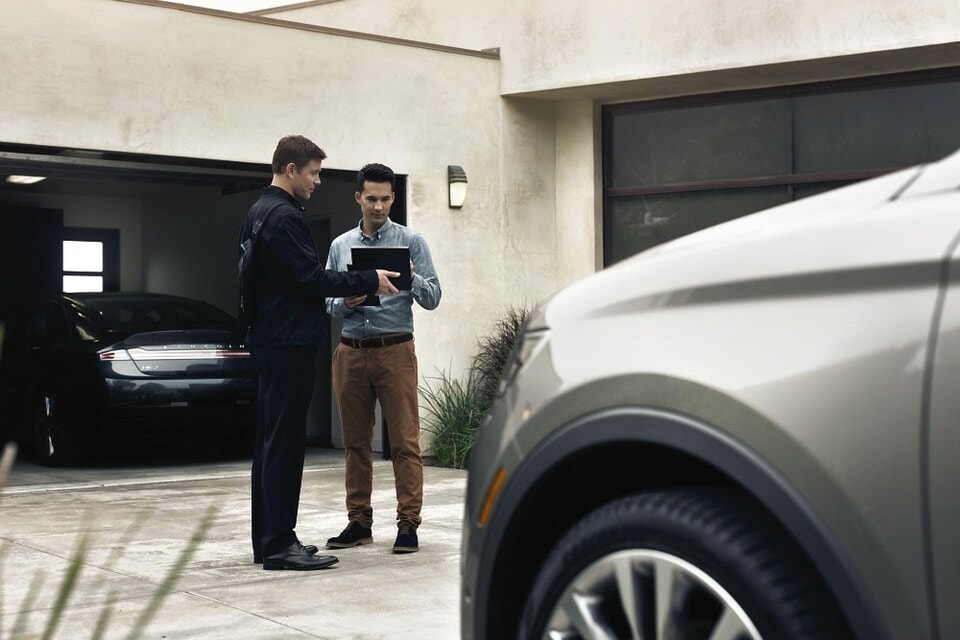 A Full Range of Auto Service and Repairs without Even Visiting Our Service Center
You may be spending more time inside lately, but your Lincoln still needs to be maintained. Fortunately, Cleveland drivers can get complete auto service or repair at Ken Ganley Lincoln Middleburg Heights without even visiting our service center. Our certified technicians can change your oil, rotate or change your tires, top off your fluids, do an alignment, and more while you stay at home with your family. We don't think having your car serviced should be a hassle, so we work around your schedule to make it as convenient for you as possible.
Safe, Professional, No-Contact Auto Service in Middleburg Heights
Ken Ganley Lincoln Middleburg Heights adheres to the CDC guidelines for cleanliness and social distancing. People in Cleveland can feel good knowing that we wear gloves while we work and thoroughly clean your vehicle before we return it. Just schedule your appointment online or by phone call and we'll handle the rest. Let us know where to come get your car and where you want us to leave it when we're done. We'll do pickup and delivery wherever you are in the area, including Parma, OH but please contact us to arrange logistics as availability and terms are on a case-by-case basis. Contact us for no-contact auto service today.
Contact our Cleveland area service center to set up a service appointment for your luxury sedan or SUV.
Service Pickup & Delivery Availability Inquiries
* Indicates a required field
Hours
Monday

9am-6pm

Tuesday

9am-6pm

Wednesday

9am-6pm

Thursday

9am-6pm

Friday

9am-6pm

Saturday

9am-5pm

Sunday

Closed
Lincoln Pickup & Delivery service is valid for owners of 2017 and newer model-year Lincoln vehicles. Service is available for retail and warranty repairs. Service fee may be incurred if pickup location is more than 20 miles away from your preferred dealership. See your Lincoln dealer for details.